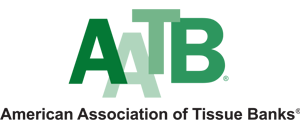 AATB Learning
The 2021 AATB Certified Tissue Bank Specialist Preparatory Course
Registration

The AATB Certified Tissue Bank Specialist (CTBS) Examination will be offered twice in 2021. The exam will be administered at remote testing centers April 5-16, 2021, and the second administration will be October 4-31. CLICK HERE to find testing centers near you.
Exam registration is conducted through your AATB portal account. Once logged in, click "CTBS Exam" on the left-hand navigation, then click "Allow" to allow your information to be passed over to Webassessor to register. If you do not already have an AATB portal account, you will need to create one. CLICK HERE to log in to your portal account.
About the Prep Course
The AATB CTBS Preparatory Course is the only AATB sanctioned course providing examinees with content, materials, and tools to prepare for the examination.
The 2021 CTBS Prep Course will be available from January 2021 through October 30, 2021. The program includes;
On-demand lectures covering all aspects of the CTBS examination.
The AATB CTBS study reference guide.
AATB Standards for Tissue Banking.
Live Q & A sessions.
Practice quiz.
AATB staff and committee members have evaluated the CTBS Examination and prep course material to assure our examinees have the resources to effectively study for the examination.
About the CTBS Examination
CTBS is an individual designation that is attained by passing the CTBS Examination. This designation signifies that the certified individual has successfully demonstrated an understanding of the basic principles, concepts, and AATB Standards for Tissue Banking.
The CTBS Exam is developed by AATB Certification Committee and is intended to assess the comprehensive knowledge, understanding, and application of the AATB Standards for Tissue Banking, relevant regulations, and best practices associated with tissue banking. The exam is comprised of 120 multiple choice questions related to Quality Assurance, Distribution, Donor Screening & Testing, Processing, and Recovery. The examination includes questions focused on all tissue for transplant including; musculoskeletal, cardiac, vascular, skin/dermis, and birth tissue. Examinees will have 120 minutes to complete the examination.
Please Note: The 2021 fall CTBS exam will include an additional 10 questions. These questions will not be graded, and participants will receive an additional 15 minutes to complete them.
Recommended Experience and (or) Educational Background
Baccalaureate Degree and 6 months of experience (or) 12 months of experience in one or more of the following tissue banking related fields: assessing donor eligibility; tissue recovery; tissue establishment management/ leadership; tissue processing; storage or distribution; quality assurance; educator/trainer end user; (i.e. orthopedist or dental surgeon) supplier or manufacturer for tissue establishments or supporting role.
All prospective candidates for examination must submit a signed code of conduct during the exam registration process.
Diversified tissue banking experience and participation in the AATB CTBS Exam Prep Course are highly recommended.
The passing score is 72% for the CTBS Examination.
CTBS Prep Course Registration & Content

Subscribe via RSS
The AATB Aseptic Technique Workshop Training Guide is a compilation of five individual training modules: Introduction to Aseptic Technique, Sterile Field, Surgical Scrub, Gowning & Gloving, and Donor Prepping & Draping. The intent of each of these modules is to promote and strengthen the knowledge of best practices involving aseptic technique for those members involved in the tissue recovery and packaging of tissues at recovery. At the conclusion of training for each module participants will be required to demonstrate competency through testing and direct observation.
The information contained in the AATB Aseptic Technique Workshop Training Guide reflects AORN Guidelines for Perioperative Practice, 2015 Edition, and AST Standards of Practice for the topics covered/discussed; however, the guide does not contain all potential techniques and/or methods.
Only qualified preceptors and trainers should use this guide in conjunction with established AORN Guidelines for Perioperative Practice and AST Standards of Practice to develop their own Aseptic Technique Workshop Training Program.
Aseptic Technique Workshop Training Facilitator Guide

This document is the student guide for training and educational purposes.

You must log in to access content.

Aseptic Technique Workshop Student Training Guide

This document is the trainer/facilitator guide to assist in training and educating participants in various aspects of aseptic technique.

You must log in to access content.
| Access Date | Quiz Result | Score | Actions |
| --- | --- | --- | --- |