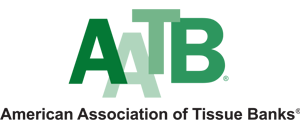 AATB Learning
Allograft Planning: The Connection Between Recovery, Processing, and Distribution (Group)
This presentation will dive into the Allograft Planning process. The allograft planning team reviews donor information from eligible donors and decides which grafts should be produced in order to maximize and optimize the gifts of tissue donation. The planning process considers current and forecasted distribution needs, as well as each donor's unique attributes, such as age, height, weight, medical history, number and types of tissue recovered, etc.
The 3 primary objectives of this presentation are to:
1) Summarize the allograft planning process (i.e., the steps that occur between tissue recovery and tissue processing)
2) Recognize the different processing and distribution options for each recovered tissue (ex. frozen vs. freeze dried grafts, aseptic vs. irradiated grafts, etc.)
3) Understand the factors that can affect how and why recovered tissues are transformed into different types of final grafts (ex. bone density, authorization restrictions, etc.)
This presentation is geared more towards M/S tissue planning that takes place several weeks to months after recovery, and after an MD has determined that the donor is eligible for transplantation. The reason for this is that skin, cartilage, and some fresh M/S tissue has to be processed within several days of recovery and can't really be "planned" in the same way that traditional M/S tissue is planned. I will discuss a wide array of donor attributes that can affect graft production, including but not limited to:
· Authorization restrictions (ex. not for international use)
· Medication history (ex. warfarin)
· Medical history findings (ex. knee replacement or previous surgeries)
· Lifestyle (ex. sedentary vs. active)
· Weight-bearing vs. non-weight-bearing grafts (ex. tri-cortical blocks vs. bone powder)
The entire presentation is geared towards optimizing tissue donations by planning the types of grafts that are best suited for each donor's attributes. This is done to both honor the donor's wishes of helping as many people as possible, as well as to meet each organization's distribution needs. Planning is also a very important step because it prevents processing teams from over-producing or making grafts that may end up expiring before they can be transplanted because there is no current demand.
Kelly Patrick, MS, CTBS
Recovery Partner Director
Kelly Patrick graduated from the University of Cincinnati in 2003 with a Bachelor of Fine Arts in Electronic Media. She earned her Master of Science in Regulatory Science degree from Johns Hopkins University in 2019. Kelly has been a Certified Tissue Banking Specialist since 2005 and currently serves on AATB's Certification Committee and Quality Council.
Kelly worked as a Processing Technician and Supervisor for U.S. Tissue and Cell in Cincinnati, Ohio, from 2003-2006. She began working for Community Tissue Services (CTS) in Dayton, Ohio, in April of 2006 and has been there ever since. She spent a little over five years working in and managing, the Production Planning department, where she reviewed donor information and created processing instructions for each donor to maximize and optimize the gifts of donation.
Kelly also has seven years of experience working in the Quality and Regulatory Affairs department and now works in CTS's Tissue Recovery department as a Recovery Partner Director. She provides recovery statistics to all of CTS's Recovery Partners and looks for process improvement opportunities that help ensure CTS's processing needs are met.
$i++ ?>
Key:

Complete

Next

Failed

Available

Locked