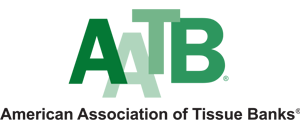 AATB Learning
Module 2: Recovery & Acquisition
This section of presentation will focus on areas of tissue recovery and acquisition in the CTBS examination.

Louis Jares, BS, CTBS, CEBT, D-ABMDI
Education Director
Louis Jares is an Education Director with the Musculoskeletal Transplant Foundation (MTF). Having been in the tissue banking industry for over 23 years, he began his work in the field of donation at the Mile High Transplant Bank in Denver in 1996 and has since also worked for Donor Alliance and The Rocky Mountain Lions Eye Bank. Louis has a Bachelor of Science in biology and is also a Certified Tissue Bank Specialist (1998), a Certified Eye Bank Technician (2003), a Registered Diplomate with the American Board of Medicolegal Death Investigators (2006), and an affiliate member of the National Association of Medical Examiners (2009). He has participated in several committees and projects over the years including the AATB Accreditation and Education Committees, the Donor Alliance Mortuary Resource Committee, tissue banking consultation in the Republic of Colombia, Germany, Bulgaria, and the Netherlands. As part of his international work, he has had the honor of presenting at the European Association of Tissue Banks in Brussels, Belgium in 2014. Louis was a co-founder of the MTF Medical Examiner and Coroner Advisory Committee which he helped co-found in 2006 and kept active until the Committee's dissolution in 2017. He is also a member of the NAME Ad Hoc Organ and Tissue Committee since 2015. His personal interests in research and Forensic Anthropology came together with a recently published journal article entitled Transplanted Allograft Bone in Forensic Anthropology published in the Journal of Forensic Radiology and Imaging in March 2017. He is the current Chairperson of the AATB Education Committee and Elected Vice-Chairperson of the AATB RADE Council. Louis hails from Denver, Colorado but currently resides in South Texas, between San Antonio and Austin.
$i++ ?>
Darrel Lewis, MBA, CTBS
Education Director
Darrel joined MTF Biologics in 2001 as an Education Director. In this capacity, Darrel has worked with a number of tissue banks and organ procurement organizations throughout the United States providing tissue recovery, screening, and regulatory education. Darrel has developed a number of education and training materials including the production, direction, and editing of two tissue recovery training videos. In addition to these duties, Darrel has been involved in many specialized tissue recovery development assignments and research projects for major universities. He has maintained his CTBS since 1992 and has been an AATB member since 1993. Prior to joining MTF, Darrel was Assistant Manager of Tissue and Eye Procurement at Midwest Transplant Network in Westwood, Kansas. Darrel received a Bachelor of Business Administration from Webster University in 1998 and an MBA from Avila University in 2005.
$i++ ?>
Walter Recker, BS, CST, CTBS
Walter began working with LifeCell in 2003. He currently holds the position of Regional Field Manger. In this capacity, Walter works with a number of tissue banks and organ procurement organizations throughout the Central United States and is responsible for the coordination of tissue procurement, and on-site training as well as technical and material support. Walter is a Certified Surgical Technologist, Certified Tissue Banking Specialist and active member of the American Association of Tissue Banks.
$i++ ?>
Michael Gilbert, MBA, CTBS
Technical Trainer
Michael E. Gilbert, MBA, CTBS is a Technical Trainer, Donor Services with CryoLife. He is a 2010 graduate of Kennesaw State University with a Bachelor Degree in Sport Management, and a 2012 graduate of Shorter University with a Master's Degree in Business Administration. Michael obtained his CTBS designation in 2006, and is also certified as an Emergency Medical Technician with the Pennsylvania Department of Health.

Michael began working at CryoLife in 2004, after transitioning from a career in the Fire/EMS industry. He started as a Donor Services Coordinator in the Donation Support center where he would screen donors with the Recovery Partners. After about a decade in the role (with increasing responsibilities) he was promoted to his current position as a Technical Trainer. As a Trainer, Michael has held workshops with Recovery Partners across the country, focusing on cardiovascular tissue recovery techniques.
$i++ ?>
Key:

Complete

Next

Failed

Available

Locked