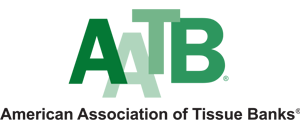 AATB Learning
Laura Walling-Sotolongo, CTBS
Sr. Director, Employee Learning & Advancement
As a dynamic executive coach, educator, and transformational change catalyst, Laura Walling-Sotolongo uses her +14 years of experience in various aspects of Tissue Banking including leadership development, employee training, donor screening, tissue authorization, recovery, processing, distribution, and quality systems to produce impactful bottom-line results.
She graduated with a Bachelor's of Science in Molecular Biology and is a Lean Six Sigma Green Belt, Gallup Certified Strengths Coach, and CTBS certified.
She serves the AATB as the Vice Chair of the Education Committee and in her current role as the Senior Director of Employee Learning & Advancement at New England Donor Services, Laura brings high energy, positivity, and consistent results to organizational & talent development, leadership coaching, and learning design.
She is driven by operationalizing strategies with tactics that engage, align, empower, and develop NEDS' employees and leadership team to help them cultivate their strengths and support positive change that maximizes their potential.